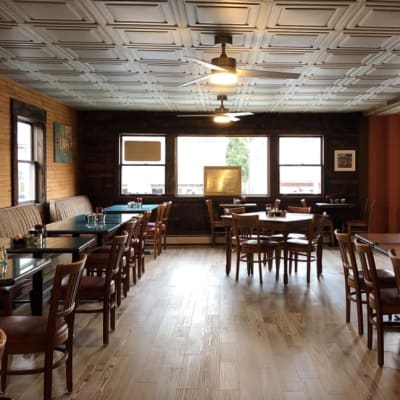 The Restaurant
Open to the public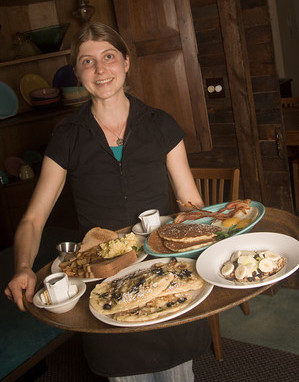 View our menu: Bright Morning Inn Restaurant Menu
The Bright Morning Inn restaurant specializes in serving hearty and healthy breakfasts to our overnight guests and the public. We are open five mornings per week from 7:30 – 11:00 am and till noon on Sunday, closing on Tuesday and Wednesday. (When the restaurant is closed, we will cook for you personally!)
Located in the heart of Davis's main street, our restaurant is a popular stop for visitors, and a cozy spot for good coffee, music and conversation.
When staying at the inn, you receive a full country breakfast of your choice — from an array of regional country foods and healthy food, too. Our restaurant uses local produce, honey and maple syrup and offers seasonal specials whenever possible. Standard menu offerings include basic bacon and egg breakfasts along with homemade biscuit and gravy, French toast with fruit, and several varieties of fluffy pancakes. For lighter appetites we offer locally-made granola with milk or yogurt and breakfast egg sandwiches. Our seasonal specials, offered most weekends, are just that -- and not to be missed!
Whatever your taste or appetite, we provide you with hot cooked-to-order breakfast, that's carefully prepared. It's the perfect beginning for your day's adventure!
"WOW, can they cook! Breakfast is open to guests and the public as well. Everything is fresh and made to order with an excellent variety offered on the menu." - TripAdvisor Review