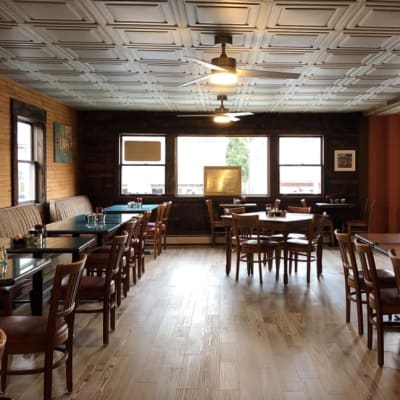 Milo's Cafe & Restaurant
Open to the public
Milo's Cafe & Restaurant is located on the lower level of The Bright Morning Inn. We offer Breakfast, Lunch, and Dinner service, as well as an extensive cafe with freshly brewed coffee and pour overs from Counter Culture coffee, and an extensive Wine and Beer menu.
CORONAVIRUS UPDATE 4/24/20:
Our cafe and restaurant is currently open for take-out only, Friday through Monday 8:30 to 2pm. During these hours, we are offering both Breakfast and Lunch items, as well as our freshly brewed coffee from Counter Culture and a selection of our delicious cafe baked goods. Finally, we are offering some incredible take home full meal entree specials, with different options each week, which you can take home to heat later for dinner.
You can see our full menu and place your order online at Milo's Menu. If you prefer to order over the phone, please call us at 304-259-5119. We are requesting that customers pay using a credit card (preferably online or over the phone) during this time, as it is the safest for everyone. Food may be picked up from the front window marked "Pickup" on the front of our building. We will also accept orders through our front windows, but request that customers wear a mask.
Breakfast
We are famous for our hearty country breakfast, which is served Thursday to Monday, 7:30am to 11am (noon on Sunday). We feature an array of regional country fare, as well as delicious weekly specials.
Lunch
Milo's serves lunch on Thursday, Friday, Saturday, and Monday from 12pm to 3pm. We have a variety of homemade paninis grilled on hearty sourdough bread, as well as fresh salads and homemade soups.
Evening Tapas
Milo's now offers an exciting array of Tapas on Friday and Saturday nights from 5:30pm to 9pm. Our menu changes weekly and features local and seasonal ingredients.
Cafe & Coffee
Milos' Cafe is open Thursday - Monday 7:30am to 5pm. We always have freshly baked pastries, homemade cookies, and other awesome treats, to go with our freshly brewed coffee from Counter Culture. We have an extensive seating area, so come and relax and enjoy our free Wifi.
"WOW, can they cook! Breakfast is open to guests and the public as well. Everything is fresh and made to order with an excellent variety offered on the menu." - TripAdvisor Review