May 1, 2015
West Virginia Spring: A Sea of Serviceberry
Posted by: Brent Markwood
Spring comes slowly in the northern mountains of West Virginia. Near Davis and Thomas, in Tucker County, we endure a lengthy and dreary mud season when everywhere else is in gorgeous bloom. But by late April, and early May, we are rewarded by a remarkable show of Serviceberry trees. Not just a few, either, but a mass of trees whose delicate blossoms dominate the landscape for weeks.
The show is especially lovely between Davis and Canaan Valley, along Route 32, but in truth it's beautiful nearly everywhere. It's a subtle show, though, one that isn't often (or easily) photographed.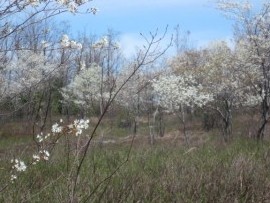 In the mountains we call the Serviceberry "Sarvis" and locals say the name came from the use of these, the first flowers of spring, at church services held by settlers for early circuit-riding preachers. Whether that's true or not I can't say. But it's a good story and one we like to repeat.
The Serviceberry is a valuable tree for wildlife, producing small sweet berries mid summer. Birds, deer, and bear love them, and a small handful will give you a lift when hiking in Dolly Sods.
Still, it's in spring, when the blossoms come, that this unassuming little tree is truly unforgettable.