April 1, 2018
Splashdam Trail: Purdiest Trail in 48 States!
Posted by: Brent Markwood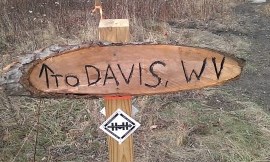 Davis' newest trail is now complete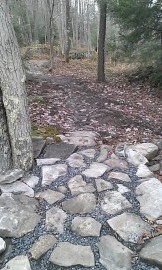 Gorgeous new bike trail in Davis, WV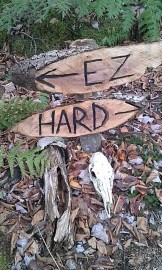 Best trail signs in Tucker County!
As if there weren't enough great hiking and biking trails in Tucker County, WV, there's a newish one, the beautiful and accessible "Splashdam Trail" which leads now from the bridge in downtown Davis, WV along the Blackwater River about 4.5 miles. The trail is extraordinarily beautiful in a place where there's already plenty of pretty trails. It's extraordinary because of the variety of ecosystems it covers. It passes through fern meadows, mossy boulders, a wickedly beautiful stream called "Devil's Run" and impressive rhododendron thickets. For most of its length it follows close to the Blackwater River, providing views of the river's whitewater that just weren't available until now.
Almost as impressive as the scenery are the kick-ass trail-building skills on display. The techniques used are first-class, efforts begun several years ago by Ken Dzaack, a consummate trail engineer with a fine eye for beauty. Ken began the project when the land was owned by the Canaan Valley Institute. The land is now owned and managed by the WV Department of Natural Resources, and is part of the Little Canaan Wildlife Management Area. The trail was finished through the efforts of the Heart of the Highlands organization, a group building a trail to link Davis, Thomas and Canaan Valley and hopefully join up with other major trail networks in the region. The effort, which requires cooperation from numerous landholders, is a long slog, but there are dedicated and talented people behind it (Ken's wife Julie, for one), and some federal money, which never hurts.
The Splashdam Trail skirts the southern bank of the Blackwater River, away from the majority of established trails, in an area that is basically pristine and little used. It is used by hikers and experienced mountain bikers, mostly locals, who use it to access other trails south of town.
Visitors to the Bright Morning Inn are always looking for hiking ideas and right now, the Splashdam Trail is one of my top picks. It's beautiful, it's close and makes a perfect day trip from town. And with the newest section now complete, you don't have to drive to locate the trailhead.
While you're at it, check out another local treasure, the "Smallest Church in 48 States," nine miles north on Rt. 219 in Silver Lake, WV. It's really named "Our Lady of the Pines Catholic Church" and features an altar and twelve one-seat pews across an aisle. Built in the 50's as a family church it's a peaceful spot set among beautiful gardens, including masses of blooming lily-of-the-valley in springtime.