November 23, 2016
Posted by: Brent Markwood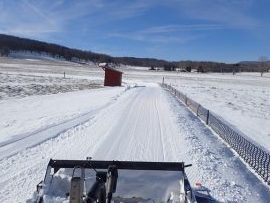 Canaan Valley's ski season is upon us and last week's snow has created an extraordinary opportunity for cross country lovers: Whitegrass is open for Thanksgiving weekend!
According to Chip Chase:
"We are open for the season no matter the snow now that it is winter season!"
Whitegrass Ski Touring Center is the much-beloved heart of Nordic skiing in the Canaan Valley, maintaining over 60 km of trails ranging from 3220 - 4463 ft. with over 1,200 vertical feet to cross country up and over. It offers lessons, rentals and a fantastic and cozy cafe offering homemade, healthy and hearty food -- an important requisite for the cross country crowd.
Located in the southern end of Canaan Valley in what was once the Weiss Knob ski area, Whitegrass is ten miles south of Davis, WV or about 15-20 minutes. Davis is the Valley's closest town and provides the Valley's post office. The town's quaint downtown offers numerous restaurants, two craft breweries, a grocery store and Dollar General, two art galleries and several lodging operations, including the Bright Morning Inn.
Whitegrass is also unique in its partnership with the Canaan Valley National Wildlife Refuge. In exchange for allowing skiers on its property, Whitegrass provides the Refuge with numerous educational outreach events, that help teach visitors about the Refuge and its environment. Chip often serves as a leader at these events, which are largely FREE snowshoe walks on Sunday afternoons...and snowshoes are included!
The following is a list of Whitegrass events for the coming winter taken from its website. These events, largely free and family-friendly, are a wonderful chance for visitors to get to know the Canaan Valley Nordic ski community and its unique environment.
November 27, 2016 Evergreen Wreath Making Workshop - Join us for an afternoon of fun learning how to make your own holiday wreath. Bring a hand pruner and any decorations or adornments you'd like to add to your wreath. We'll have all the materials you'll need including a variety of firs to construct your very own piece of artwork. We'll get started at 1pm and be around all afternoon. Dave Saville will be outa the country and WG is running this event, had plenty of practice...
December 3, 2016 35th Annual Jack Frost Celebration - Help open up the season in honor of one our favorite snowy characters. Bring a dish to share Saturday eve and we will provide the refreshments. We are making a community monetary donation matching all Jack Frost celebration and beer tips to our Tucker County Food Bank. Join in and bring a nonperishable goodie and we'll add that to the whole shebang! Sunday brunch rounds out the weekend.
Dec. 18 Snowshoe Discovery Tour - 1 pm A natural history snowshoe walk with Chip Chase, owner of White Grass, as he shares fun facts about the climate, forest type, and geology of the area. Enjoy a short streamside jaunt that lasts about an hour and covers around a mile of easy rolling terrain.
Jan 1, 2017 Snowshoe Discovery Tour - 10 am A natural history snowshoe walk with Chip Chase as he endlessly gabs about the history of local skiing, quirky climate facts, railroad history, and the environmental battle for Canaan Valley vs. the Power Company.
Jan 7 Winter Trails Day 2017 - Free lessons, area use, and clinics to all first time interested skiers or snowshoers. XC lessons every hour and a 10 am and 2 pm clinic on types of snowshoes, clothing, basic techniques, and outdoor winter snow travel followed by a natural history tour on snowshoes into our neighboring National Wildlife Refuge.
Jan 8 Snowshoe Discovery Tours The Wonders of Winter Wildlife - 10 am Americorp Mallory Gyovai will be talking about animals adaptations to the winter season within CVNWR. Focusing on a few species, and keeping our eyes peeled for tracks and other animal signs, we will discuss how the season creates a plethora of reactions from our wild neighbors.
TBA Jan 20 West Virginia Special Olympics Winter Games - Gathered are racers from three states, parents, coaches, volunteers, and helpers. This event will give back tenfold what is put in!
TBA Women's Wonderful Weekend - 9am to 3 pm Refresh or pick up some new ski techniques. Instruction available for all types of skiers and experience levels from track and skate techniques to downhill control and telemark turns. Lunch included.
Jan 22 Twenty Five Km Mountain State Marathon - 1 pm A rolling long course or settle for a shortened version. Kid's classes and well groomed for classic or skate. $20 entry fee. Sweet prizes along with website photos making you look like a champ.
Jan 22 Snowshoe Discovery Tours Time to get Squirrelly - 10 am They rummage through garbage cans, steal our bird feed, and love college campuses. But what do you really know about squirrels? Join Americorp Lauren Merrill and CVNWR on a snowshoe hike as we talk about the behavior and life history of these little creatures. You're guaranteed to see at least one.
TBA Kids Clinic and bb biathlon 9:30 am - noon For Ages 6‐10 Both beginner and experienced kids will have fun playing games and learning new skills. 1 pm optional bb biathlon has 3 targets, 9 shots, and everyone wins!
Jan 29 5 Km Snowshoe Walk/Run - 11 am Well organized by Helvetia, WV distance runner Dan Lehmann this event features a rolling course full of prizes and fun. Snowshoe rentals available for $8. Race costs $5!
Jan 29 Snowshoe Discovery Tours Water Water Everywhere - 10 am Join Park Ranger Ted Hodson on a hike where we discuss how water in all of its forms moves through the valley. Find out why the wetlands are so important to the water cycle, and how we can guarantee its survival.
Feb 1 Our Ground Hog's Day Ski - 9 am Our annual trek in search for clues to the rest of winter never seems to end. Full day backcountry journeys usually have no route in mind and end up lost.
TBA Parent Child Clinic - 10am to noon Ski lessons for our littlest skiers. Parents and children ages 3-5. Morning session from 10:00-­11:00. What does every skiing parent want for their children? Good health, happiness, and of course a love of skiing. We'll engage your youngest skier in games and activities that will make them beg you to go skiing again. Plus parents will learn how to play skill-­based games with your little ones.
Feb 19 Snowshoe Discovery Tours Where Wildlife Comes Naturally - 10 am Join Park Ranger Ted Hodson who will be talking about the history and importance of the National Wildlife Refuge System. Learn why the refuge system was created, what our mission is, and all of the fun activities that are allowed on wilderness land.
Feb 26 Snowshoe Discovery Tours Volunteering at CVNWR - 10 am Join Mallory and Lauren who will be talking about AmeriCorps, Appalachian Forest Heritage Area (our program within AmeriCorps), and volunteering at the refuge. We will talk about all of the projects that are made possible by the help of volunteers, and how to get involved.
TBA Skiathon Fund Raiser for Mtn Laurel Learning Coop...start 3 pm, 1hour, 2 lap distances (one for older kids and one for younguns). Pledge forms soon to be arriving....
Mar 5 Natural History Snowshoe Discovery Tour - 10 am with Chip Chase, owner of White Grass and lifelong outdoorsman sharing his knowledge of the area as well as the history of the relationship with the Fish and Wildlife Service and the formation of the Refuge here.
TBA bb biathlon championship - 1 pm 3 targets, 9 shots, everyone wins, adults are encouraged to ski and shoot.
Hash Hound Harriers ski hash schedule announced as they are determined.
NATO Telemark Workshop - Dickie has retired and will not be leading classes or tours for 2016-17 as far as we know.
Full Moon Skiing Trips are around each month's lunar glare Dec 14, Jan 12, Feb 11, and Mar 12. We usually head out around 7:30 pm. Good snow, surprising visibility, mysterious sense of control.