May 30, 2015
Pet Friendly Accommodations: Now I get it!
Posted by: Brent Markwood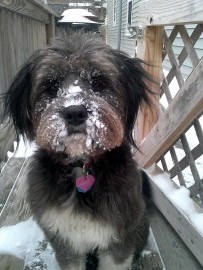 Even though I have owned the Bright Morning Inn for fifteen years now, and have accommodated people's dogs for many years, I never really understood what all the fuss was about...until now. Because now I own a dog, too, and it's crazy how much I love her!
Davis, WV is a particularly dog-centric kind of town. It is surrounded by miles and miles of fantastic trails and gravel roads perfect for running dogs. There are creeks for swimming, geese for chasing and muddy bogs for wallowing. There are blueberries to hunt in the summer (dogs love them) and amazing snow drifts to leap through in winter.
At the Bright Morning Inn we accept quiet well-behaved dogs only. And in all these years we've had very few problems. It seems that people don't like to travel with crazy dogs. Imagine that! We don't take cats, however, as there are way too many people allergic to cats and they can, well, climb on things. Not good in a public space.
I don't keep my dog Ssoula at the inn too much. She's good but not entirely well behaved. Still, she has brought me so much joy that I can't quite imagine life without her, which is just what my guests have been feeling all these years, too.