November 12, 2016
Paragliding at Canaan Valley Resort
Posted by: Brent Markwood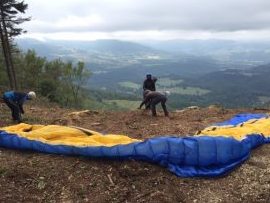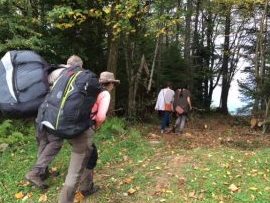 Canaan Valley is known for outdoor adventure. It's the home of West Virginia's earliest ski industry. And its cool summers are beloved by mountain bikers, hikers, golfers, hunters and fishermen. Today the Valley offers two downhill and one cross country ski resort and a 16,000 acre National Wildlife Refuge.
The area's newest activity is the high adrenaline sport of paragliding, a growing sport in North America. Canaan Valley Resort State Park is home to the new paragliding launch site, which further expands the Valley's offerings .
"It's a project that we've been working on for the past six years, and finally it's come to reality and everybody is really excited about it," said Stan Beafore, park superintendent.
Just more than 4,000 feet in elevation, it can be accessed via the resort's scenic chair lift. The southwest facing launch site faces into the prevailing winds, which are extremely rare in the Appalachian Mountain range.
"We actually had some people launch off here for the first time last week. Really great experience. It was fun to see, it's going to be popular," Beafore said.
Canaan Valley Resort and the Mountaineer Hang Glider Association opened the site on Oct. 8, 2016. It is one of only two sites in the Eastern United States that is accessible by a ski resort chairlift.
The site can be accessed from Memorial Day through the end of October, and mid December through mid March. The fee to ride the chairlift to the top of the mountain is $7 for adults. Pilots can carry their paragliding equipment with them on the lift, and the launch site is a short walk from the lift.
To use the launch site, pilots must be current members of the U.S. Hang Gliding and Paragliding Association. Landing sites have also been set up with two family farms nearby.
Although pilots can fly year round in the region, the most favorable flying time in the Potomac highlands (where Canaan Valley is located) occurs in the afternoons during the summer and fall.
Unlike other launch sights, Beafore said it's legal to paraglide in Canaan Valley Resort State Park. To expedite the project, officials there developed a plan to protect the Cheat Mountain salamander, a threatened species known to live atop Weiss Knob. A raised boardwalk was built over the salamander habitat so that pilots could reach the launch site without disturbing the creatures' travel.
Beafore said the West Virginia State Parks Foundation, the Foundation for Free Flight and the Mountaineer Hang Gliding Association all helped pay for the launch site.
The Mountaineer Hang Glider Association have a contractual agreement with Canaan Valley Resort for operation of the launch site. Pilots using the site work directly with the hang gliding association for launch times. Pilots can make launch reservations with Ben Herrick by phone at 304-866-3312.
Portions of this article reprinted from The State Journal October 20, 2016