June 2, 2016
Natural Air-Conditioning Gets an Upgrade
Posted by: Brent Markwood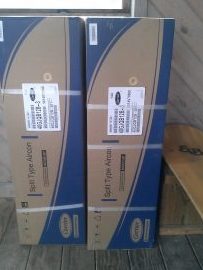 New AC system installed this week for those not quite so cool nights
It isn't what we wanted. And if we're lucky it won't be used that much. But the Bright Morning Inn has finally accepted reality and installed air conditioning in our bedrooms. Ugh.
Canaan Valley and Blackwater Falls have long been known for their cool summers. In truth, there's only a handful of nights when you really need it. But when you do, we're all going to sleep easier knowing it's available. And in this day and age, with ever present social media, it's important to head off potential complaints whenever you can.
The units are easily controlled mini-split systems that will allow for both cooling and extra heating in winter. It's a quiet system, too, and may help those extra light sleepers who don't like to sleep with the windows open.
It's the end of an era. A bit bittersweet. But the next hot spell we'll all be grateful we've made the switch.