August 29, 2016
Late Summer Wildflowers at Blackwater Falls
Posted by: Brent Markwood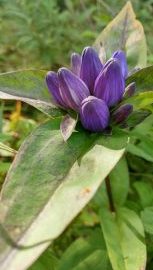 There is a wonderful plant that blooms this time of year throughout Canaan Valley and Blackwater Falls. It's my favorite: the magnificent Closed bottle gentian or Gentiana andrewsii. It offers a rich true blue that contrasts beautifully with the blond grasses of late summer.
This photo was taken on the trail that leads from Blackwater Falls State Park to Davis, on the south side of the Blackwater River. About a mile long, the trail allows easy access from town to the park, either on bike or foot.
The trail boasts a few nice bogs complete with cranberries and cotton grass, a beautiful little bridge over a small run that feeds into the river, and lots of cool shade in summer. It's a great little trail for dog walking on a hot day.
But for me the best part is the gentian. It shows up in late summer, our driest season, when days are warm and evenings turning cool. It signals summer is ending and, once again, we are marching toward winter.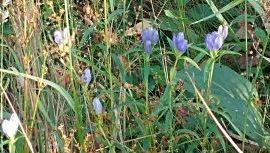 Closed bottle gentian in Blackwater Falls State Park