June 9, 2015
It's Official: Blackwater Bikes Changes Hands
Posted by: Brent Markwood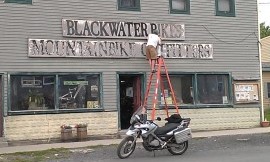 Downtown Davis Gets A Fresh New Look
After weeks of speculation it's finally official: Blackwater Bikes, the well-known bike shop in downtown Davis, WV has a new owner -- and he's getting the sign repainted!
The little shop on Route 32 has been the center of mountain biking activity in the region for many years and a sponsor of numerous rides and races. The shop has an impressive history. The new owner, Rob Stull, replaces Roger Lily, who took over from Gary Berti and Matt Marcus, who bought the place from Laird Knight, who founded the shop in 1982. Whew! All were and are dedicated mountain biking riders and enthusiastic champions of the sport.
Laird's company, Granny Gear Productions, was nationally known for mountain bike promotions and founded the popular 24 Hours of Canaan race, which was scuttled after the Canaan Valley National Wildlife Refuge eliminated many of the valley's trails.
The shop is well located in downtown Davis, sandwiched between Sirianni's Cafe and the Bright Morning Inn, and a stone's throw from Hellbender Burritos.
Rob will continue selling bikes and gear, running rentals, servicing equipment, and sponsoring rides and races in the area, including the upcoming Canaan MTB Festival June 18-21. And he wants to hear from riders about how they would like to see the shop evolve. His first act, besides giving the place a good sweep, has been to freshen up the peeling paint on the shop's sign and post his new summer hours: Mon-Sat 10-5 and Sunday 10-4.