May 20, 2015
Hunting Chaga in the West Virginia Woods
Posted by: Brent Markwood
It's a mushroom, it's a fungus, it's a parasite. It's chaga, and it's plentiful in the northern mountains of West Virginia. Known for it's medicinal properties, chaga is brewed into tea that some people believe will boost your immune system and fight cancer. I have no experience with that. But I do know it's fun to hunt, fun to collect and when you drink it, it tastes like the forest.
Chaga grows on yellow birch trees found in northern forests. Here in the woods surrounding Davis, WV, such trees are numerous.
The bark of yellow birch trees isn't really yellow, more like a dull greyish green. But it's clearly papery and birch like, and relatively easy to spot. The trees are also found in the woods ringing the Canaan Valley, in Dolly Sods and in much of the Monongahela Forest.
Hunting for chaga requires patience and persistence, and a few tools, as it has to be pried from the tree. To brew into tea, the flesh is then dried and ground into powder, or, if you're lazy, small chunks can simply be steeped in hot water (not boiled). This is the preferred method of local folks, who have turned many people onto chaga over the years. The resulting brew is an excellent tonic after skiing or exercise. It makes you feel refreshed, and connected to nature somehow. Maybe it's just the hydration, who knows.
There's much to be learned on the internet about chaga, if you're interested. But the most important thing to know is that getting out in the woods, whether hunting for chaga or not, is always good for you. http://en.wikipedia.org/wiki/Inonotus_obliquus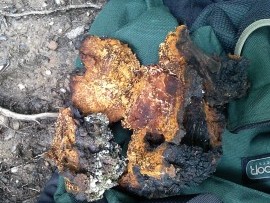 When pried from the tree the underside of the chaga is a rich yellowish orange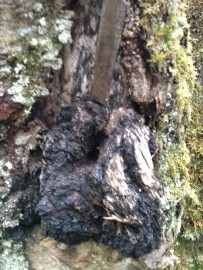 Chaga looks like blackened wood, or charcoal, when attached to the tree