September 13, 2016
Finding Your Way in Dolly Sods
Posted by: Brent Markwood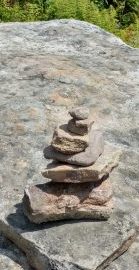 Rock cairns are common sites in West Virginia's Dolly Sods Wilderness
Most of the trails within West Virginia's Dolly Sods Wilderness are well worn and easily followed. For years the area has been popular with hikers and backpackers, and for good reason: it's scenic, peaceful and amazingly wild considering it's only a few hours from Washington, DC and other major cities.
But there are times when even well-marked trails there can be perplexing, and even experienced hikers can get turned around. Believe me, when hiking in Dolly Sods, being a little cautious isn't a bad thing.
Seasoned hikers know how to mark their route so they can find their way back. A friend of mine used to leave little stick arrows along his route in case he needed to backtrack. And he was a woodsman who had lived in wild places all over the world.
Not everyone who visits the Sods these days is a seasoned hiker. The new road, Route 48 (Corridor H), is bringing more people to our area every year. Many of them are coming to explore the cultural attractions in nearby Davis and Thomas. Some are experiencing wilderness for the first time. These people need help any way they can get it.
Fortunately, throughout the Sods, thoughtful hikers have created stone cairns to guide you at decision points along the trail. It's an old tradition. The little sandstone stacks are pleasantly sculptural, and when you are lost, they are beautiful sights indeed.
Not everyone likes the cairns. Some think that if you need to follow a cairn you have no business hiking in a wilderness area. Others hate seeing any sort of man-made thing in such a wild place and consider them graffiti of sorts. (Note to some cairn builders: these really aren't sculptures, they're built to give direction, not decorate -- and in the wrong place they can cause confusion!)
I get what the critics say, but I still love the cairns. At their best, they are beacons left by someone who thought enough of others to mark the way ahead, simple kindnesses left for strangers. Who could argue with that?