October 21, 2016
Dog in a Bog: Picking Cranberries near Canaan Valley
Posted by: Brent Markwood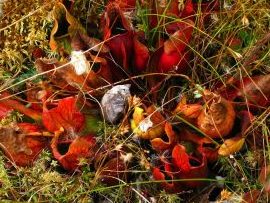 Pitcher plants in Olson Bog filled with rainwater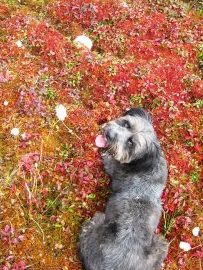 Pitcher plants in Olson Bog filled with rainwater
There are many reasons to visit West Virginia in the fall besides beautiful foliage. True, we have remarkable fall color here, which peaks early in the Canaan Valley and Blackwater Falls area.
But for some of us, the most exciting part of fall isn't the leaves, it's the cranberries, and the beautiful bogs where they grow.
These photos were taken in an especially fine bog called Olson Bog, which is near one of the few remaining fire towers in the Monongahela Forest: Olson Tower.
The tower provides 360-degree views of the surrounding area including the Cheat River watershed, Parsons, Blackwater Canyon, Canaan Mountain, Backbone Mountain and the Otter Creek Wilderness.
The tower offers spectacular views when the leaves are changing, though it's the bog that's the real treasure. It stretches out as a sea of fluffy cotton grass. Underneath, cranberries lay thickly, ripe for the picking by anyone with wading boots and a bucket. In between are clusters of maroon pitcher plants, which fill with rainwater, waiting for insects to fall in...and drown.
Hiking in a bog with a happy dog, picking cranberries in the quiet, is a delightful way to spend the final days of fall.