February 6, 2018
Davis, WV Perfect Any Time of Year
Posted by: Brent Markwood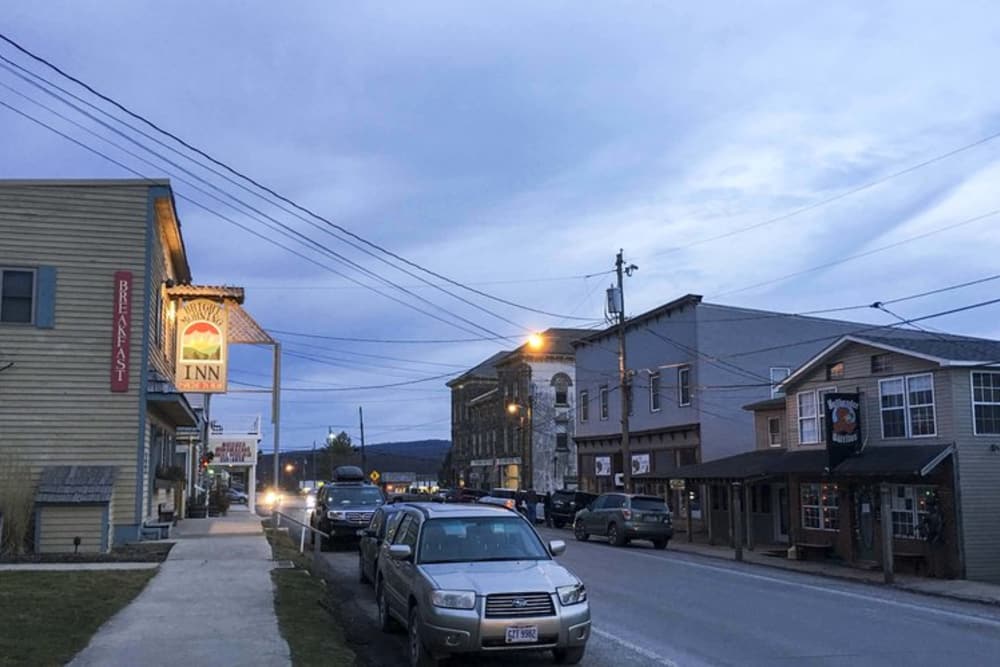 Here's a blog post by recent guests Todd, Carrie and Daniel Sechel who visited during one of our least snowy winters…and still found plenty to do and see. You can read more about this incredible traveling family and their worldwide adventures at thesechels.com. Below is their post from March 4, 2017, which proves once again that Davis, WV and the surrounding countryside is beautiful and interesting– every season!
We love West Virginia… the relaxed vibe, amazing natural beauty, and really nice people make West Virginia one of our favorite states to visit. Since childhood Todd and I have visited various spots in West Virginia to white-water-raft, hike, enjoy amazing nature, and relax, however we've always visited in the traditional peak season (for non-skiers)… June, July, and August. When we were considering routes back from Nags Head, North Carolina on our recent road trip, we remembered this little town in West Virginia that we fell in love with a few years ago… a few days later we were in Davis, West Virginia…
So you might be wondering what the heck is in Davis, West Virginia… a state park with great hiking, scenery, and waterfalls, restaurants, breweries, and a fantastic little Inn, and a neighboring town a couple miles away with a funky arts scene. What follows are the details…
Nature and outdoors
Davis, West Virginia is the home of Blackwater Falls State Park… we originally visited Davis so Todd could photograph Blackwater Falls and Elakala Falls… we found that the State Park has a ton to offer…
If you're a waterfall lover, Blackwater Falls State Park is a must-visit spot. Depending on the time of year and water level, there are many different waterfalls… Blackwater Falls and Elakala Falls are the largest.
In addition to the waterfalls, Blackwater Falls State Park has a number of hiking trails. Some of the trails are especially nice for families because they have shorter options (the short hike to Elakala Falls was one of the first hikes Daniel went on, and enjoyed, when he was 5).
Blackwater Falls State Park has a small lake and on our first visit we rented a rowboat and went fishing.
Our understanding is that when there's snow Blackwater Falls State Park is a popular spot for cross country skiing and has a large sledding hill. Also, Canaan Valley Resort State Park, about 15 miles from Davis, offers downhill skiing in the winter.
Where to stay
There are multiple great lodging options from camping in the state park to motels to a fantastic B & B that we love…
Blackwater Falls State Park offers a lot… during our first visit to Davis a couple years ago we stayed in a cabin in the state park. We were really pleased with the cabin… a great location in the middle of nature, a small kitchen and living area, one bathroom, and two bedrooms. The state park also offers camping and rooms in the lodge. We didn't see any rooms in the lodge, but did visit the lodge and understand that it offers traditional motel rooms, a restaurant that's open all year, and an indoor pool.
During our first visit to Davis we went to Bright Morning Inn for breakfast (Bright Morning has a restaurant that's open to the public for breakfast a few days a week) and fell in love. The people, food, and vibe were so great that we knew we'd visit again… when we decided to stop in Davis on our road trip we immediately booked the family suite at Bright Morning.
Bright Morning offers a variety of rooms for all different needs. The family suite has two bedrooms, which was perfect for us. The rooms at Bright Morning are very clean, comfortable, and have a cozy feel. We will definitely stay at Bright Morning in!
Great food
Confession… during our two visits to Davis we loved Bright Morning and Sirianni's Pizza Café so much that we didn't go anywhere else!
Bright Morning is open to the public for breakfast several days a week depending on the season. Currently, it's open every day but Tuesday and Wednesday. Bright Morning serves a limited menu to Inn guests on the mornings it's closed to the public. The full breakfast menu is extensive and includes something for every taste… pancakes, omelets, huevos Rancheros, local granola… I could go on and on…
Sirianni's Pizza Café has excellent food and a fun and funky vibe. Todd and I both had Greek salads that were super fresh and delicious. Daniel had a pepperoni pizza that he loved and Todd and I had the veggie pizza. If you're a veggie pizza lover, Sirianni's is next level… it includes pretty much every veggie you can imagine including broccoli and zucchini.
Though we didn't go to the other restaurants, we noted a number of options…
If you like breweries, there are 2 in Davis… Stumptown Ales, and Blackwater Brewing Co. Both offer food, but the Stumptown Ales' menu is very limited. Mountain State Brewing Co. is located between Thomas and Davis.
Hellbender Burritos is a very popular spot… it will be on our list during our next visit!
If you'd like to venture out of Davis and drive a few miles down the street to Thomas, there are more options, including The Purple Fiddle and Tip Top Coffee. We stopped at Tip Top on our way out of town and loved the coffee… we noted that they also have a small bar and offer a number of food items.
Music and art
Susan, our host at Bright Morning, shared some great information about Davis and its neighboring town, Thomas… the towns each have their own vibe, but together offer a great mix of lodging, breweries, and restaurants (Davis), and arts and music (Thomas).
The Purple Fiddle, in Thomas, has live music multiple times a week. Susan noted that it's a popular spot for bands to stop for a show while traveling between east coast and mid-west venues, and they get some well-known acts. Our understanding is that The Purple Fiddle is a family friendly venue, which is sometimes hard to find for live music lovers… we're looking forward to seeing a show at The Purple Fiddle the next time we visit the area!
We didn't have a chance to check out any of the shops or galleries in Thomas, but loved the art displayed in Tip Top when we stopped for coffee.
Getting there
Davis is about 5 hours south east of the Cleveland area. The drive is pretty straightforward for the first 4 hours (the turnpike and other freeways). The last hour is a beautiful drive through the winding roads and hills of West Virginia… probably more enjoyable for the passengers than the driver!
On this visit we came in from North Carolina… from the east almost the entire drive is on a new freeway. Our understanding is that the freeway will be connected to another point to the west and at some point the twisting and winding route from the west will no longer be necessary (although I prefer it!).
Wrapping it up
Davis, Thomas, and Blackwater Falls State Park are great places to visit no matter what time of year it is! We'll be back!
A few things before you leave…
· Leave a comment below with any questions and share your experiences so others can learn from you!
· Share this with other adventurers… just click share below.
· Are you part of the community? If not, you're missing out on valuable information that is only shared in our regular emails. Click here to sign up!
Tags: blackwater falls, canaan valley, davis wv, thomas wv