June 20, 2015
Cobbler Season: Bumper Blackberry Crop Ahead!
Posted by: Brent Markwood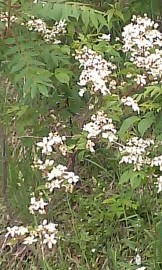 Thick sprays of blackberry blossoms in early June. They're everywhere!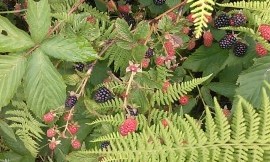 Last year's blackberries were good for picking in July and August
Picking blackberries each summer is one of the simple pleasures of living in Davis, WV. For many of us, walking dogs on the edge of town means checking out the progress of the amazing blackberries that grow here in such abundance. In early June, roads and trails are positively lined with blackberry stalks, each thick with blossoms. In July and August, when the berries ripen, mounds of bear scat appear on the trails. Bear love berries, and eat tons of them, but there are still plenty left for human picking.
This year's crop appears bigger than usual, if that's possible. An old timer once told me that as a child he and his cousin picked 98 GALLONS of blackberries one summer, for his uncle, who made wine.
I make cobbler, using a simple crust recipe from Mimi Kibler of La Fontaine Bakery. It was her mother's. It's perfect with ice cream and makes a nice supper (or breakfast) if you're too tired to cook. It's these simple pleasures that we appreciate living here on the edge of the great outdoors.
Blackberry Cobbler
Filling:
5 cups blackberries
1/4 cup cornstarch
1/2 cup sugar
Crust:
1 cup flour
1 cup sugar
1 t. baking powder
1 t. salt
1 egg
1/3 cup melted butter
Preheat oven to 350 degrees.
Mix berries with cornstarch and sugar, add to 9" baking dish.
Mix flour, sugar, baking powder and salt.
Add egg to dry mixture and barely stir to combine. (Using fingers works best)
Sprinkle crumbly mixture over fruit.
Drizzle with melted butter.
Sprinkle top with dash of cinnamon.
Bake 45 minutes.
Serve warm with vanilla ice cream.